Comments Off

on Just Starting Plumbing Courses? 5 Tips for Beginner Plumbers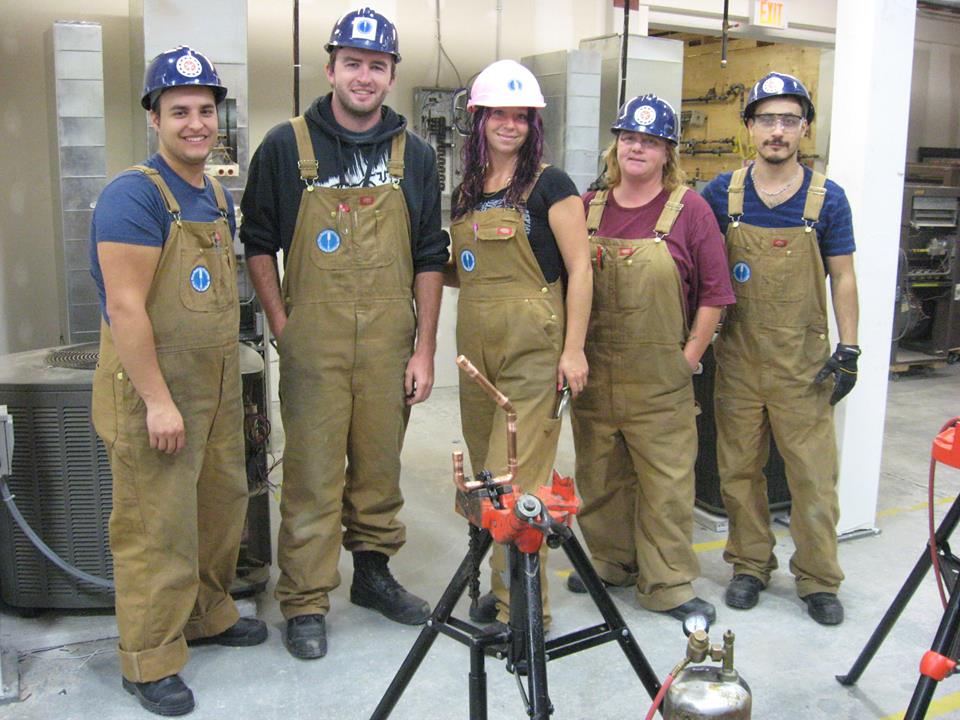 There's so much to learn and remember at the start of trades training. Plumbing courses are no different. From technical terminology, tool names, building codes, and procedures, to just learning the names of your classmates—it can feel overwhelming at first.
However, with good instruction, hard work, and hands-on practice, your understanding and confidence will grow. Before you know it, you're finished pre-apprenticeship training, completing your apprenticeship, and earning your Certificate of Qualification.
But in the meantime, what are some ways to ease your transition from plumber newbie to experienced pro?
Follow these 5 simple rules, and you'll do just fine—not just in plumber courses, but throughout your entire career.
1. BUY THE BEST TOOLS YOU CAN AFFORD – AND MAINTAIN THEM
A quality pre-apprenticeship plumbing program will supply students with tools they can use during training, and take with them to begin an apprenticeship.
However, throughout your career, you will need to add to this collection—and any good plumber will tell you, it's worth investing in the best tools you can get.
A high-end, properly maintained tool will have a big impact on the quality of your work (and will go a long way to prevent frustration and wasted time).
And don't forget, this includes attire: good socks, boots, safety gear, and the right clothing for working in cold temperatures.
2. MAKE SAFETY YOUR TOP PRIORITY
What's the golden safety rule of plumbing? Keep your hands out of your eyes, nose, and mouth—and never bite your fingernails!
You'll be exposed to chemicals and bacteria, so protecting yourself with gloves and safety glasses is key. Of course, you'll also need to pay close attention when working in confined spaces and at heights, and be sure to follow the safety procedures you'll learn in plumbing courses.
Your employer and co-workers should make safety a top priority, but ultimately, it's up to you to protect yourself, apply best practices, and keep alert.
3. ALWAYS CHECK YOUR WORK
Your employer and clients will always expect the job to be done right the first time. Nobody likes call-backs. It's normal for small details to go unnoticed when you're just starting out—so take the time to double-check your work.
Invest a few extra minutes to test out the drain you unclogged, the seal you repaired, the pipe you installed…and know your local plumbing codes and standards like the back of your hand.
4. SHOW UP ON TIME (STARTING WITH YOUR PLUMBING COURSES)
Think it's no big deal to show up to class a few minutes late? Think again. Your instructor, and later on, your employer, will not take kindly to unreliability. What you lack in training and plumbing skills you must make up for in hard work, respect, and dependability.
Plan to arrive early, and make sure you're ready to learn (and work) with the right tools, a good night's rest, and a positive attitude.
And even after you've gained many years of experience, timeliness will continue to play an important role in delivering superior customer service.
Whether you're responding to an emergency or making a routine maintenance visit, showing up on time is important for building trust with customers—and proving you're a true professional.
5. OBSERVE THE PROS CLOSELY DURING PLUMBING TRAINING
You'll go through several years of instruction to become a certified plumber. Make the most of your trades training and apprenticeship to soak up everything you can from seasoned pros.
This starts during plumbing courses, where you'll train with plumbers with many years of experience. Keep your eyes and ears open for opportunities to pick up new skills, extra tips, and avoid common errors.
Building the habit of observation and continued learning will serve you well during your entire plumbing career. There's always something new to discover, and not just from fellow plumbers.
When you're out on a job site, keep an eye on HVAC techs, electricians, and carpenters to understand related aspects of the building and maintenance process. After all, all of these systems are connected, and it helps to have a sense of the big picture.
Haven't started training yet, and looking for a top-rated pre-apprenticeship plumbing program?
Your next step is to speak with Admissions. An Admissions Advisor will guide you through the Plumber program, costs, financial aid, how to apply, and more.
Chat live with an Advisor now. Or click below to explore the program in more detail. We're here to help!