Comments Off

on Residential Roofing; the Rundown on Material Choices and Costs
Residential roofing is one part of home renovation or new home construction that has not changed much in recent years. Although roof material prices have increased, techniques and products have remained about the same over the last 20-years or so.
The most common and widely used type of material by roofing contractors is asphalt shingles; 3-tab or T-lock. 3-tab shingles are available in a variety of roof shingle colors and styles. Including higher-end architectural shingles which have raised texture and design.
A Word About 3-Tab and T-Lock Roof Shingle Installation
3-tab shingles are nailed or stapled to the roof; usually consisting of OSB board or exterior plywood nailed to the top side of the roof trusses, and then covered with 15 lb. or 30 lb. asphalt roof felt. The shingles are applied in runs beginning on the lower edge of the roof, working toward the top.
The top edge of each roof shingle is nailed into place. The next run overlaps the top part of the shingle below. Asphalt "sticky tabs" on the lower edge of the shingle adheres to the top of the previous run. The tabs heat up and bond both layers firmly in place. Special care must be given to ensure each run is arranged so that seam lines between the tabs are properly offset, providing maximum water shed.
Note: because the asphalt shingle sticky tabs represent the only sealant on the bottom edge of the shingles, they should not be installed when the temperature is below 40º F. This is so tabs heat enough to make a good seal. High winds (in excess of 60 mph) can cause the seal to let loose and cause damage or shingle loss; especially when tabs have not sealed properly.
T-lock shingles are used specifically in areas with prevailing high winds. This is because the design of this type of roofing shingle includes not only sticky tabs but flaps that interlock with the previous run. Again, special attention must be given to each run, to ensure each shingle lines up and interlocks properly with the previous run. Providing maximum adhesion and watershed.
Other Roofing Material Types
Galvanized metal roofing, copper roofing material, and those made from other types of metal such as tin, steel, and aluminum are also widespread; available in a variety of color choices. Metal roofing has gained in popularity mainly because of its extended life expectancy and snow shedding properties. While metal roofing price is significantly higher, life expectancy is 100-years or more when properly maintained.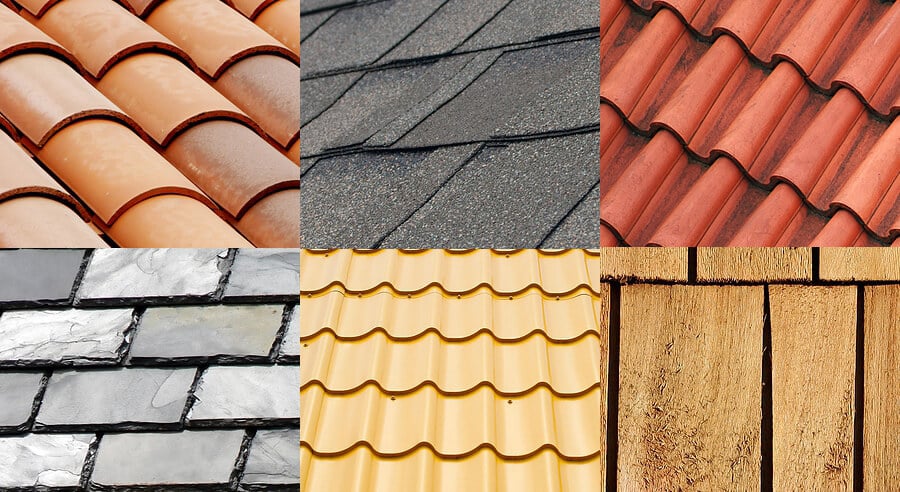 A ceramic tile roof or concrete tile roof will also render a life expectancy of 100-years with proper care. However, both require a very strong roof truss system to support the weight, which can be up to ½-ton per square -a 10 X 10-foot area. Because of the aesthetic appeal of ceramic and concrete tile, they remain the favored residential roofing choice for the wealthy elite.
Cedar shingles or a wood shake roof is another attractive choice; one that yields 50-years or more life expectancy when properly maintained. Wood shingle prices are higher than asphalt roof shingles but less than metal or ceramic/concrete tile
Built up roofing (BUR) consists of multiple membrane layers adhered together by hot mopped-on asphalt. This type roofing is most suitable for very low pitch roof or flat roof applications.
Another roofing option is modified rubber roofing or EPDM rubber membrane products. These options range from cold application processes to hot applications; such as mop-on hot asphalt or torch application procedures.
About Roof Style Price
BUR and other rubber or asphalt products are petroleum based. Recent increases in oil prices have inflated costs for these type products, which previously often exceeded $1000 per square.
Homeowners can expect to pay $200 to $300 for each square of asphalt roofing shingles installed, plus $50 to $150 per square to tear off and haul away old roofing. Cedar wood shingles cost $150 to $200 more per square than asphalt shingles, in addition to costs to tear off and haul away old materials.
Residential metal roof installation, depending on type and difficulty, can range from $400 to $1000 per square. A roofing system consisting of multiple gables and resulting valleys will incur higher costs.
Ceramic or concrete roof tile prices normally run $1000 per square or more. If roof truss system requires upgrading to support the weight of a ceramic or concrete tile roof, price per square drastically increases, since major roof construction and modification is necessary.
Find the Right Professional for the Job
While many homeowners are up to the task of installing common asphalt shingles as a DIY home project, other types of roofing may best be installed by a professional roofer. A professional roofing contractor who is certified for a particular type of roofs such as a BUR hot-mop asphalt roof or EDPM membrane roof offers warranties for workmanship and roofing products.
Homeowners all across America seeking a reliable local roofing siding contractor can locate one quickly, easily, and without cost or obligation at TrustedPros.com.
Simply sign up for FREE and post your roofing project details online, where it is immediately visible to roofing professionals in their community 24/7. Local member contractors also receive e-mail notification of new project postings within their scope of services, and provide competitive bids in days, even hours after project posting.
View information on each candidate online at your convenience; including company profile, licensing/insurance/certification information, references, customer comments, and photos of recently completed projects. And then make an informed hiring decision, or hire no one at all. Remember, there is no obligation whatsoever.
Posted by: TrustedPros